Payment Processing Solutions
Explore the Gateway
Payment Processing Diagram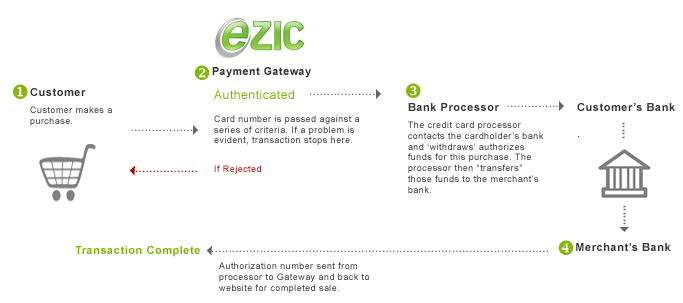 As an ISO or Agent, one of your most important decisions is the selection of the gateway service provider that you recommend to your merchants. In an electronic transaction, the decision as to whether a transaction is fraudulent or not rests with the gateway and its fraud detection and prevention expertise.
A typical credit card transaction would proceed as follows, with the entire process taking two to three seconds:
As a consumer, you pass your card to a merchant to pay for a product/service or enter the card number yourself at your favorite website. At that moment your credit card information is captured.
Your information and the transaction amount are transmitted to a gateway where it is checked for authenticity. The card number is passed against a series of criteria: known fraudulent numbers lists, point of origin for high-risk countries, as well as a variety of merchant customizable parameters.

If a problem is evident the transaction process stops here.

If the information seems to be correct and no fraud is apparent, the information is passed to a credit card processor. The credit card processor contacts the cardholder's bank and "withdraws" authorizes funds for this purchase. The processor then "transfers" those funds to the merchants' bank completing the electronic processing of funds. Once this action is completed the processor sends an authorization code to the gateway.

If there is an insufficient credit line available, the transaction is declined.

On an approved transaction, the processor notifies the gateway of the authorization code. The gateway receives the code and communicates this code to the merchant. The purchase is made. The total transaction will be completed later in the day during batch settlements between financial institutions.
A debit card or e-check transaction is processed in a similar fashion, with the distinction being the evaluation of available funds versus credit line. In both cases digital information is captured, passed against fraud protection criteria, checked for available funds and accepted or declined, all in a matter of seconds.
Your gateway is the crucial link charged with authenticating information and accurately and smoothly passing all communication between the merchant and the processor. Selecting the correct gateway is crucial to your business.
Processing Solutions for Agents
Transaction Processing Options
Virtual Terminals
Batch Mode
Hosted Payment Page
Direct Mode Interface
Direct Mode Batch Interface
Multiple Merchant Matrix
Manage Multiple Bank Accounts Under One Gateway Account
Configure Accounts by Load Balancing, Card Issuer, Priority, Transaction Type, or Site Tags
Customizable Cascade Settings
Subscription/Membership Management
Customizable Recurring Billing
Tokenization
Stepdown Rebilling
Processing Solutions for Merchants
Our flexibility allows merchants to tailor their solution to create their own customized gateway.
Transaction Processing Options
Virtual Terminals
Batch Mode
Direct Mode Interface
Direct Mode Batch Interface
Ezic Hosted Payment Pages
PCI Compliant Transaction Processing
Format Page with Option-Based Selections
Customize Page with Exact HTML Coding desired
Multiple Merchant Matrix
Manage Multiple Bank Accounts Under One Gateway Account
Configure Accounts by Load Balancing, Card Issuer, Priority, Transaction Type, or Site Tags
Customizable Cascade Settings
Subscription/Membership Management
Customizable Recurring Billing
Tokenization
Stepdown Rebilling
Analyze Memberships
Advanced Membership Reports
Hotel Interchange Rate Support
Up-Sell/Cross-Sell Support
EZICheck™
Expand your Payment Offerings
Comprehensive Daily Disbursements Report